International Trade Settlement in INR
₹ 5,900.00
Topics to be covered:
Settlement of International Trade thru Nostro – Foreign Currency & Vostro Account – INR
Settlement of International Trade with Russia/OFAC countries thru Special Vostro Accounts in INR
Settlement of Indo-Sri Lanka Trade in any Foreign Currency thru Nostro/Vostro Account
Settlement of Trade with IRAN thru UCO Bank/IDBI Bank
Case Study, Questions and Answers
Description
This webinar takes you through the nuances of the new scheme for International Trade Settlement in INR (Indian Rupee) as published by RBI recently. This is a webinar which will be scheduled periodically and can be also scheduled on demand. If you wish to be informed when it is scheduled, please share your contact details and the Program Title you wish to be informed about at https://trainingcentral.co.in/contact/
Overview
The Reserve Bank of India recently published the circulars detailing the mechanism for international trade settlement in Indian Rupee (INR). This measure was put in place to assuage the difficulties faced by companies following fluctuations in the cross-border currency rates post the Russia-Ukraine war, macroeconimic conditions in various economies around the world facing rising inflation, the vagaries of oil prices and various other factors.
Introducing this measure by RBI will increase India's trade with countries facing US dollar shortage. It is also expected to pave the way for the INR's acceptance as a global currency. The facility will also promote growth of global trade with emphasis on exports from India
Indian corporates, large and small, need to assess the impact of these facilities on their overseas trade and understand the processes which banks and financial institutions have put in place for facilitating such trade. This new arrangement is expected to have impact the following aspects of trade
Invoicing: All exports and imports under this arrangement may be denominated and invoiced in Rupee (INR).
Exchange Rate: Exchange rate between the currencies of the two trading partner countries may be market determined.
Settlement: The settlement of trade transactions under this arrangement shall take place in INR in accordance to the procedures laid down in the relevant circular issued by RBI.
Already, SBI has announced initiation of transactions with Russia, Iran and a host of other major trade partner countries of India.
About the Trainer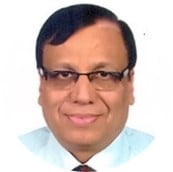 Mr. Nijai Gupta is a specialist and established trainer in Forex, Treasury & Trade Finance.  He consults in these domains & is a practicing Cost Accountant, a former banker, Treasurer and Associate of the Institute of Cost & works Accountants of India, Kolkata, Indian Institute of Banking & Finance, Mumbai and Diploma holder of Law of International Institution, University of Delhi. He is a visiting faculty at Institute of Chartered Accountants of India, BSE Institute, NMIMS, St. Xavier's Institute of Management, Chetna's Institute of Management & Research, DSIMS, Sri Balaji Society, ITM/IFM/IES and other Business Schools in India for International Financial Management & International Business etc.
His specialisations include International Finance, Setting up of a Bank or Treasury in Bank/MNC corporates (Front/Mid & Back Office), Money Transfer Company (Cosmic Lines, Dubai, Wall Street Finance, India & Western Union), Foreign Exchange & Trade Finance activities of a Bank and MNC Corporate's/Institutions. He was formerly a Dy. Chief Executive of Krung Thai Bank for setting up of their bank's branch in India and also Vice President with Bank Muscat SAOG and also Head of Treasury with ADCB, Dhanlaxmi Bank and Antwerp Diamond Bank. As a consultant and trainer, he has worked with a number of leading banks, rating agencies, global IT companies, MNC's doing international businesses, consulting firms, trade associations, Money Transfer Company in UAE, Setting up of the bank under Islamic Laws and banking institutes in the East Africa, UAE and Nepal and India.
(Visited 142 times, 1 visits today)
Additional information
| | |
| --- | --- |
| Duration | 4 hours |
| Mode of Learning | Virtual Classroom |
| Author Name | Nijai Gupta |
| Role/Designation | Bankers dealing in Trade Finance or wishing to make a career in Trade Finance, Finance professionals across different sectors and industries who wish to understand the nuances of International Trade Finance, Professionals from shipping, freight, and logistics companies, Senior Executives and Managers working for companies dealing with Export/ Import |