Treasury and Forex Management (Virtual Class)
₹ 17,700.00
By the end of the session, you will be able to learn :
Need & Importance of Integrated Treasury & Treasury Products
Reserves & Liquidity Management
Arbitrage Between Treasury -Forex & MM Products
Impact of Negative or Zero % interest on Emerging Markets
Trade Finance Products used for arbitraging
Click here for detailed schedule.
Description
This is a Virtual Classroom training, which will be scheduled periodically and can be also scheduled on demand. If you wish to be informed when it is scheduled, please share your contact details and the Program Title you wish to be informed about at https://trainingcentral.co.in/contact/
About the Trainer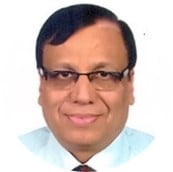 Mr. Nijai Gupta is a specialist and established trainer in Forex, Treasury & Trade Finance.  He consults in these domains & is a practicing Cost Accountant, a former banker, Treasurer and Associate of the Institute of Cost & works Accountants of India, Kolkata, Indian Institute of Banking & Finance, Mumbai and Diploma holder of Law of International Institution, University of Delhi. He is a visiting faculty at Institute of Chartered Accountants of India, BSE Institute, NMIMS, St. Xavier's Institute of Management, Chetna's Institute of Management & Research, DSIMS, Sri Balaji Society, ITM/IFM/IES and other Business Schools in India for International Financial Management & International Business etc.
His specialisations include International Finance, Setting up of a Bank or Treasury in Bank/MNC corporates (Front/Mid & Back Office), Money Transfer Company (Cosmic Lines, Dubai, Wall Street Finance, India & Western Union), Foreign Exchange & Trade Finance activities of a Bank and MNC Corporate's/Institutions. He was formerly a Dy. Chief Executive of Krung Thai Bank for setting up of their bank's branch in India and also Vice President with Bank Muscat SAOG and also Head of Treasury with ADCB, Dhanlaxmi Bank and Antwerp Diamond Bank. As a consultant and trainer, he has worked with a number of leading banks, rating agencies, global IT companies, MNC's doing international businesses, consulting firms, trade associations, Money Transfer Company in UAE, Setting up of the bank under Islamic Laws and banking institutes in the East Africa, UAE and Nepal and India.
(Visited 37 times, 1 visits today)
Additional information
| | |
| --- | --- |
| Duration | 35 hours (7 hours x 5 days) |
| Mode of Learning | Virtual Classroom |
| Author Name | Nijai Gupta |
| Role/Designation | Bankers dealing in Trade Finance or wishing to make a career in Trade Finance, Finance professionals across different sectors and industries who wish to understand the nuances of International Trade Finance / Professionals from shipping, freight and logistics companies, Professionals from shipping, freight, and logistics companies, Senior Executives and Managers working for companies dealing with Export/ Import |