It may seem challenging to create an eLearning program for a multilingual team and communicate the same message with clarity and style to all learners. In this article, you'll learn how to do this easily with the right technology.
Points to Consider
If you have a dispersed team, the members of which are not physically present at the same workspace but need to be well-trained on corporate policies, customer service, compliance, etc., then online training is a must-have. The goal is to deliver the same consistent learning experience in any language and save time and effort in the process.
It's easier to accomplish this if you stick to the four pillars, or stages, of designing an effective training program and translating it into different languages.
1. Requirement Analysis
Before you start designing your eLearning program, get a clear sense of what your company aims to achieve with it and the needs of your employees. This will point you in the right direction and help you set appropriate requirements and establish clear expectations. Only then can you elaborate the program.
Next, it's time to specify your requirements. Take the following into account:
What knowledge / skill is to be learned
How the training process will proceed;
What type of activities or interactivities it will include.
It's advisable to devote enough time to this stage and read up on training needs analysis.
2. Identifying the Technology
There is an abundance of authoring tools for creating eLearning content nowadays. Some of the tools are made for professional instructional designers with many successful projects under their belt; they can be too complex. Others are more user-friendly and work well for users of any skill level; they even can be PowerPoint-based, so you already know how to create them.
When it comes to large multilingual eLearning programs, there is no point in complicating the process. You don't want to insert large volumes of translated texts manually, right? So, it's wise to opt for a robust, easy-to-use tool that can automate this process.
For example, with iSpring Suite Max, it only takes exporting original texts from the course and importing their translated versions back to the software. You can replicate this simple process with as many language versions as you like. iSpring Suite Max will put all texts in the right places automatically, so you'll get a multilingual eLearning program in a snap.
3. Design Consideration
Keeping design clean and maintaining unity in style is no less important for large e-Learning programs. They are a marathon, not a sprint, so you need to create a sense of order and unity in the program and make it convenient for learners to consume.
Ensure that your eLearning program is balanced in terms of:
Color. Stick to a certain combination of 3 colors, with only one of them being dominant.
Composition. Place key facts and figures closer to the middle of the slide.
Spacing. Leave enough blank space to avoid sensory overload.
Text alignment. Keep in mind that left-aligned text is easier to read.
It's not advisable to use different styles within a single project, as this may lead to disorientation and chaos. Every time the visual style changes, the learner can lose their focus and, at some point, drop the course. It is much more effective and convenient to stick to the same visual style throughout the program.
Luckily, pre-made color schemes, templates, fonts, and preset themes help the design process greatly. It's also possible to save your favorite color combination or preset for further use, without needing to search for it manually each time. In iSpring Suite Max, there are many such presets, and you can apply them to any number of slides automatically. This will be great for supporting your brand identity throughout the eLearning program.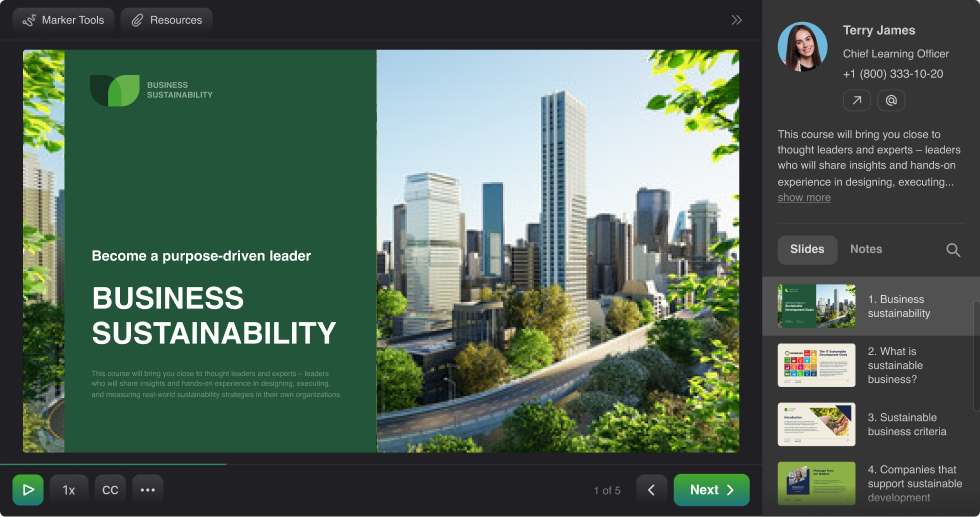 Finally, if you translate your eLearning program into another language in
iSpring Suite Max
, the tool will preserve your original design intact – colors, fonts, spacing, and alignment will stay the same in all language versions and when displaying on all devices.
4. Interactive Course Design
Static images and text-heavy slides are not an option for effective eLearning programs. If you want to maintain learners' attention and see your large eLearning program get completed, don't forget to include interactive elements. Depending on the topics covered in the program, you can build interactive role-plays with branching, or add quizzes with movable objects. They not only help you assess learners' knowledge, but also engage them in the process and help them remember information longer.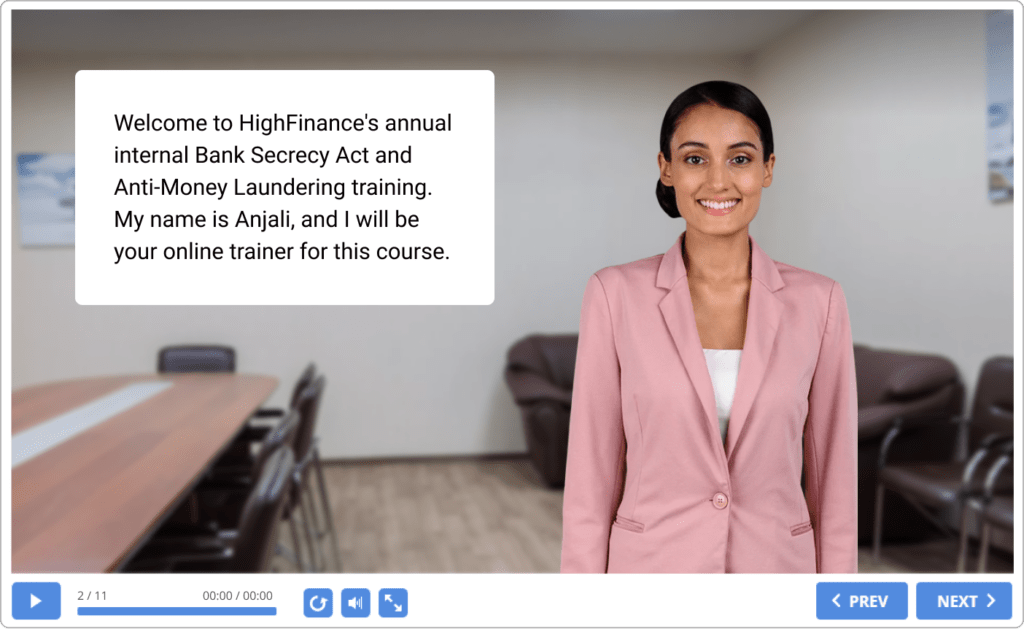 This is an example of role-plays you can build easily by simply pasting texts when needed and choosing the resulting slide for each answer. If your team is multicultural, you can select a character that better matches their identity – there are plenty of them in Content Library, which comes with iSpring Suite Max. Such role-plays are perfect for customer service skills training.
You may also find it helpful to add audio narrations to your eLearning program and do this without professional narrators or expensive equipment. With the text-to-speech feature, it's possible to turn texts in any language into authentic professional sounding voice-overs. For each language, several types of voices and timbres are available, which will make your multilingual eLearning program truly impressive.
5. Protecting Your Investment in the Course
Creating courses in multiple languages can take intense planning, require long project durations and considerable effort. Often, underlying content can change due to various internal as well as external factors e.g., change in company policy, government regulations, market trends, and so on. For every substantial change, the courses created will need to change to reflect the content change. You will need to ensure that all the content and artifacts that are used in the project are properly catalogued and stored in a repository.
For version control of the files, you can use the Version History options in the Microsoft Office suite. This helps you ensure that not only new versions are separately labelled, but you can also retrieve a previous version should you need to work with it.
Conclusion
Even if it's a large multilingual project, with the proper technology, designing a training program isn't rocket science. If you have clear requirements for the final product, stick to a consistent visual style, and care about interactivity, the rest is a matter of technique (delivered to you by TrainingCentral).
(Visited 30 times, 1 visits today)